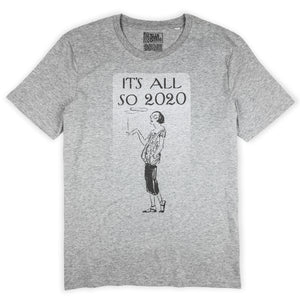 It's All So 2020
Sale price Price $26.00 Regular price Unit price / per
Tax included.
All Photos are of Actual Printed Shirt
Style: Men's, Medium Fit
Fabric: 100% Certified Organic, Ring-Spun, Combed Cotton, 180g 
Shirt Color: Heather Grey
Print: Charcoal Black and Transparent White Water-Based Ink, Distressed and Faded Print
The Tale Behind the Shirt
   Here up north it was a beautiful day, hard to imagine that down in Florida a hurricane had hit causing my grandparents to jump on the hyper-loop for the twenty minute ride from Miami to New York to seek shelter in our house.
  

I saw their cab from the loop station arrive, the whole family was at the front door to greet them and when the door opened, spilling them, their baggage and the bright sunlight into our living room, they threw up their arms and gave everyone a hearty eyes-closed hug.
  

Pleasantries exchanged, there came a silent moment of group reflection, what-can-ya-do shoulder shrugs and looks to the heavens. After all, this was no holiday visit, they were standing in our house because a storm had forced them from their home.
  

My grandmother exhaled a long exhausted breath and broke the silence. "It's all so twenty-twenty." she sighed.
  

We all laughed sympathetically. The reunion at the front door broke up and my parents took the Miami refugees upstairs to freshen up.
  

Later at dinner they explained how the governor of Florida told residents not to evacuate, that the storm would be, in his words, 'Just a bit of a squall, nothing to worry about'. At the last minute they managed to escape as the storm hit. Just after they fled the storm devoured their home.
  

"It really was so twenty-twenty." My grandfather gasped.

   
  

"Why do we always say that when bad things happen?" asked my little sister.
  

My grandmother answered by saying, "Oh sweetheart, we don't just say that when bad things happen, we say that when bad things happen to everybody because a few people make stupid mistakes."
Size Chart