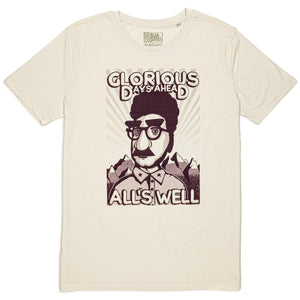 All's Well
Sale price Price $26.00 Regular price Unit price / per
Tax included.
All Photos are of Actual Printed Shirt
Style: Men's/Unisex, Medium Fit 
Fabric: 100% Certified Organic, Ring-Spun, Combed Cotton, 155g 
Shirt Color: Natural
Print: Mulberry Water-Based Ink
The Tale Behind the Shirt
   When Ed Highhair was elected supreme leader, he gazed high above the horizon. Not many had gathered for his inauguration - which he'd vehemently dispute later. Flanked by the Great Purple Mountains he began his speech by coughing up his campaign slogan, "Glorious days ahead, my people, all's well," he declared. 
   "Maybe, this time will be different," I heard a couple discussing behind me. 
   But then I saw a little boy to my right pointing at Highhair shouting, "Hey, He's wearing a pair of Groucho glasses, see?" People thought the boy had a vivid imagination. But that afternoon, as Ed Highhair's speech and bravado progressed, those Groucho glasses slowly began to materialise on his face.
Size Chart