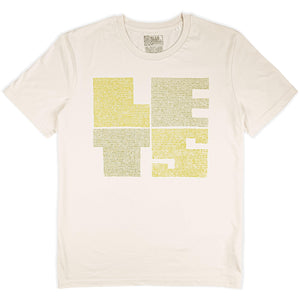 Lets
Sale price Price $26.00 Regular price Unit price / per
Tax included.
All Photos are of Actual Printed Shirt
Style: Men's, Medium Fit
Fabric: 100% Certified Organic, Ring-Spun, Combed Cotton, 180g 
Shirt Color: Vintage White
Print: Olive Green and Lime Green Water-Based Ink
The Tale Behind the Shirt
Before closing my eyes each night, I would remind myself of all the grand things I had planned for the next day. In my mind I created long lists with boxes to check, peppering my thoughts with inspirational catch-phrases that
should
move me from desire to accomplishment.
   The problem was that each time I'd wake up in the morning all the grand plans that I'd envisioned the night before seemed to evaporate and I was left with a,
What-should-i-do-today?
feeling, which quickly degraded into a
I-guess-I-have-nothing-to-do-today
feeling
.
So one night, before I went to sleep, I decided to give myself only one task to fulfil the next day and that task was, to spend the entire day writing down all that I wanted to achieve in the foreseeable future, as well as the motivational catch-phrases that would inspire me to get them done.
Success.
By the end of the day I had a long detailed list of all the things that I wanted to get done and their deadlines, as well as a graphic poster, etched with a marker, of all the words that would motivate me to crush my list. All the sentences on that poster started with the same word and all the sentences together, when viewed from afar, formed that single word:
'Lets'
Lets begin with what we know to be impossible.
Lets be masters of our own destiny.
Lets just go for it.
I went to sleep that night with an adrenaline rush of motivation, knowing in my gut that the new day would bring a downpour of accomplishments.
My sleep that night was deep.
I exploded out of bed the following morning, downed my coffee, and went over my list of tasks for the day.
It all felt like too much.
So for inspiration I started reading my 'Lets' poster.
But, unfortunately for me, I'm not the type to follow my own advice.
Oh well.
Size Chart