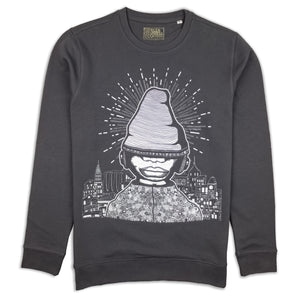 Bliss Unisex Sweatshirt
Sale price Price $39.00 Regular price Unit price / per
Tax included.
All Photos are of Actual Printed Shirt
Style: Unisex, Medium Fit 
Fabric: 85% Organic Cotton, 15% Recycled Polyester 280g 
Shirt Color: Anthracite
Print: White Water-Based Ink
The Tale Behind the Shirt
   Chance had enough of the bright-lights and big-city distractions, the buzz of it all became bother and weight. Dark weight that had to be put down. Dropped.
   He walked away. Turning his back on the city he both loved and loathed. Taking a vow of silence, he pulled his hat down low and listened to his own music.
   Bliss. 
   After an hour, he couldn't wait to go back.
Size Chart