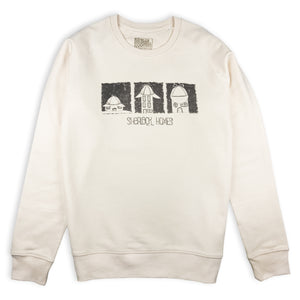 Sherlock Homes Unisex Sweatshirt
Sale price Price $45.00 Regular price Unit price / per
Tax included.
All Photos are of Actual Printed Shirt
Style: Men's, Medium Fit 
Fabric: 85% Organic Cotton, 15% Recycled Polyester 280g 
Shirt Color: Vintage White
Print: Charcoal-Black Water-Based Ink, Distressed, Faded Print
The Tale Behind the Shirt
   It never hurts to have a back-up job or an alternative mode of income. Cashing in on his eventual celebrity, the world's most famous gumshoe got into real estate and headed out to the countryside where he created Sherlock Homes. A well-placed collection of 3-5 bedroom townhouses, some with magnifying glass windows and pipe-shaped chimneys.
   As of this writing there are only six, four bedroom homes available.
Contact John Watson to arrange a viewing, all posted enquiries can be sent to 221b Baker Street, London.
Size Chart