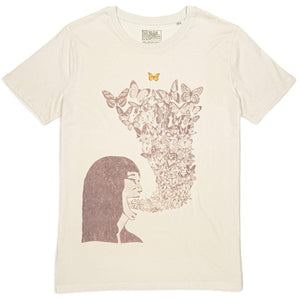 Butterfly
Sale price Price $26.00 Regular price Unit price / per
Tax included.
All Photos are of Actual Printed Shirt
Style: Men's/Unisex, Medium Fit 
Fabric: 100% Certified Organic, Ring-Spun, Combed Cotton, 155g 
Shirt Color: Natural
Print: Brick Red and Marigold Water-Based Ink, Distressed, Faded Print
The Tale Behind the Shirt
   From the jaws of life flew the dark-red butterflies by the thousands. One butterfly, amongst the smallest, wondered, 'Why do I have to be dark-red like all the rest? I've only got a day or a week to live tops, I want to be orange!' 
   The butterfly broke away from all the others and did things differently than the rest, it flew higher, it visited different flowers even tasted foods the others wouldn't eat, it figured, 'Hell, if I don't act like a dark-red butterfly, then I won't be dark-red anymore.
   The other butterflies thought the little one must be nuts. But eventually, by the end of the day the little butterfly's weirdness paid off and it turned orange, It soared high above all the dark-red butterflies until it vanished into the light of the sun. 
   All the other dark-red butterflies left behind were dumbstruck and concluded the little one wasn't nuts after all and decided, they too, wanted to be orange. Or blue. Or yellow. Even purple.
Size Chart