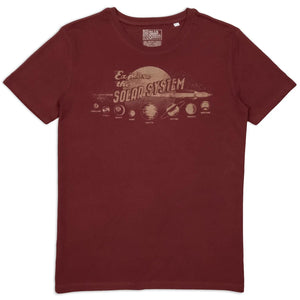 Explore the Solar System
Sale price Price $26.00 Regular price Unit price / per
Tax included.
All Photos are of Actual Printed Shirt
Style: Men's/Unisex, Medium Fit 
Fabric: 100% Certified Organic, Ring-Spun, Combed Cotton, 155g 
Shirt Color: Burgundy
Print: Linen Water-Based Ink, Cracked, Distressed Print
The Tale Behind the Shirt
   The cruise was supposed to last for seven years, with stop-overs at each planet in the solar system. But about four and a half years into the tour, the cruise director called a meeting with all the tourists in the main lounge. 
   The ship's captain was there as well looking quite somber, it was he that stepped up to the microphone to speak, "I regret to inform you that an asteroid has struck the Earth and destroyed every living thing, it's now a dead planet and we that are on this ship have to start humanity over again. So we will have to cut short our cruise and return to earth immediately. Celestial Tours is sorry for the inconvenience."
   The captain stood silently in front of the microphone, while all eight hundred of us exchanged looks of disbelief. 
   Only one man in the balcony spoke up, asking the captain, "But is there still Wi-Fi?" 
   The captain cleared his throat and replied, "Should be. The lunar communications center was unaffected." 
   There was a sigh of relief in the room followed by a hearty round of applause.
Size Chart