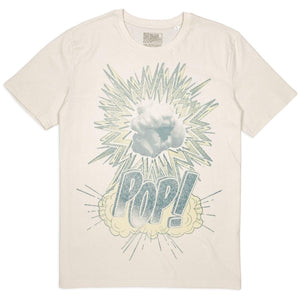 Pop!
Sale price Price $26.00 Regular price Unit price / per
Tax included.
All Photos are of Actual Printed Shirt
Style: Men's/Unisex, Medium Fit 
Fabric: 100% Certified Organic, Ring-Spun, Combed Cotton, 180g 
Shirt Color: Vintage White
Print: Ocean Blue and Yellow Water-Based Ink, Faded, Distressed Print
The Tale Behind the Shirt
   For over forty-years, Albert Stein lived and worked in the same artist's building. As he dabbed paint onto his latest portrait, there was a knock. He slid open the huge loft door,"Yes?"
   "Hey man, just wanted to say hello, I'm your new neighbor, Jack Leary."
   "Hi, I'm Albert Stein."
   "What'ya working on there? Mind if I take a look?" Without waiting for an answer, Jack walked over and scrutinised Albert's unfinished portrait. Albert chased after him. "Huh," Jack grunted. "Looks like old dutch master kinda stuff." 
   Albert shot an insulted look at Jack and then noticed he was carrying a massive portfolio. Albert crossed his arms, "And what are YOU working on then?"
   Jack slapped the massive portfolio on the floor, crouched down, opened it and pulled out a giant canvas. "Just sold it for fifteen hundred dollars."
   Albert, couldn't believe it, he'd never sold anything for more than fifty or sixty bucks. Albert stared at the canvas with disbelief, "Why it's… it's popcorn," he said. "Comic book popcorn, with the word 'pop'." He stole a look at his own portrait, and then back to Jack's print. "What is it?" He asked Jack.
   "It's pop man, pop."
   "And what is pop?"
   "Pop is everything man, anything and everything. Every. Single. Thing." Jack zipped up his painting, carried it out of the studio and slid the door shut. 
   Albert returned to his portrait and without thinking, repeatedly slashed his painting with a brush loaded with scarlet red paint. The eyes of the portrait made an effort to peek between the violent red gashes. Albert smiled at the portrait, "Pop," he grunted. "Anything and everything." And he set the portrait aside to dry.
Size Chart