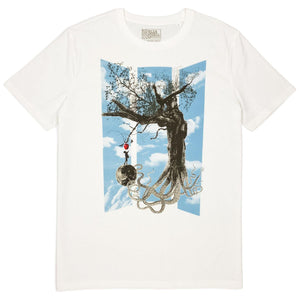 Temptation
Sale price Price $26.00 Regular price Unit price / per
Tax included.
All Photos are of Actual Printed Shirt
Style: Men's/Unisex, Medium Fit 
Fabric: 100% Certified Organic, Ring-Spun, Combed Cotton, 180g 
Shirt Color: Off White
Print: Sky Blue, Umber and Scarlet Water-Based Ink
The Tale Behind the Shirt
   It was the biggest, reddest apple I'd ever seen. It hung on the lowest reaching branch and I'll tell you, it was not there yesterday.         
   Nobody would touch it. As beautiful and delicious as it looked, no one would go near it. Even the birds flew around it but didn't dare peck at it. 
   Then came this kid skipping along. She saw that huge red apple and ran over to it. Stared at it for the longest time and slowly started to reach for it. I jumped up from the bench and ran over to her as fast as I could shouting, "Don't touch it kid! Don't touch it!" The kid got scared, dropped her arm and took off like a shot. 
   Once the kid was clear I sat myself back down on the bench and I swear that tree gave me the most evil, dirty look I ever got in my whole life.
Size Chart