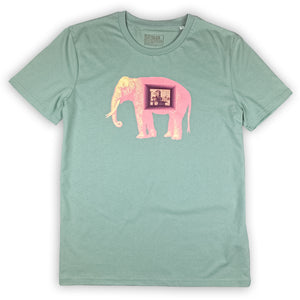 The Room in the Elephant
Sale price Price $26.00 Regular price Unit price / per
Tax included.
All Photos are of Actual Printed Shirt
Style: Men's/Unisex, Medium Fit 
Fabric: 100% Certified Organic, Ring-Spun, Combed Cotton, 180g 
Shirt Color: Aloe
Print: Pink, Lemon Yellow and Dark Purple Water-Based Ink
The Tale Behind the Shirt
  

After six and a half years the project was a complete failure.
Ivan and George had undertaken the massive program with overconfidence and arrogance.
  

Two years tops to complete they told the bosses, which soon turned to three then four. Before they knew, it six and a half years had passed. It would be their last extension. The faith and patience of the higher-ups had run dry.
  

With tear-glazed eyes, they stared in silence at the massive whiteboard covered in the hieroglyphics of mathematics, science and physics.
It all added up to zero.
Zero.
They were done for. They'd be fired, sanctioned and blacklisted for sure. Laughing stocks. Frauds. Eventually penniless.
They could smell the tar and see the feathers floating by.
  

Ivan broke the silence. "Well, shall we talk about the room in the elephant?"
  

George pulled his eyes away from the scrawl-filled whiteboard, "You mean the elephant in the room."
  

"No, in my country the correct phrase is the room in the elephant."
  

"Why is that?"
  

"It is a simple equation: in the expression, the room represents life, the elephant represents a big problem. So when the problem is bigger than life the room will be enveloped by the elephant. In your more optimistic version of the expression, the elephant or the big problem is enveloped by the room or life. It can be coaxed or lead out of the room. There is always a door out of the room - a solution. There is no door out of our elephant."
  

"But there is a door out of the room."
  

"That may be so, but if we go out of the room, we will still be inside the elephant."
  

George thought about it and nodded in agreement. This certainly was a room in the elephant.
Size Chart